Theatre in the New School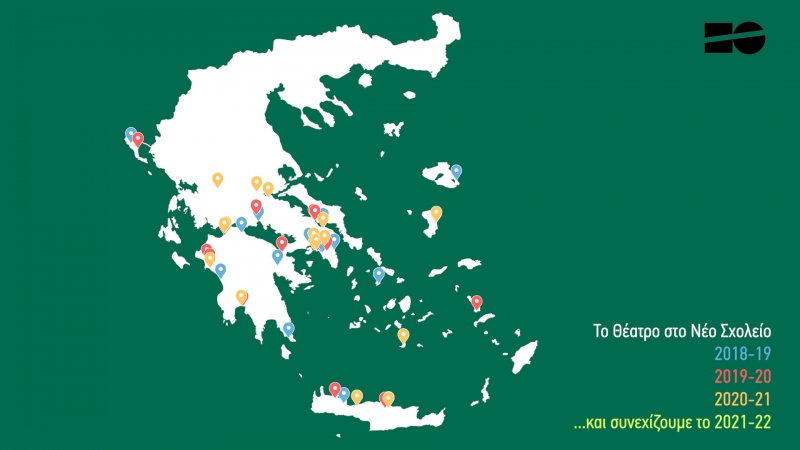 A brief review of 2020-21…
Although lockdown kept us apart, we managed to maintain a presence and invest in new ways of interacting with young people. Going online at a set time every week, we linked up with schoolchildren in a small village in Agrafa, Chios, Crete, Rhodes and Kalamata, in Santorini and Patras, in Lamia, and in Olympia, and so we managed to overcome the oppressive isolation imposed by Covid-19. We did everything we could to nourish the need for communication, collaboration and creativity until the spring, when everything that we had discussed, planned and imagined in front of our computer screens was finally able to take place. The year ended with all the schools taking part in a marathon online relay where the children could get to know each other and share games and experiences!
What we are preparing…
Theatre in the New School is ready for a fourth year! The sixty schools in Attica and the regions that have taken part in the scheme so far have made us even more determined to continue. The students' eagerness to express themselves, communicate and create, and the need of teachers to be properly trained in how to approach and work with a theatre group, confirm the value of "learning by doing" through the theatre, an extremely creative and liberating tool for personal and social change, an arena for expression and meaningful dialogue.
After the very difficult year of the pandemic, it is even more important for theatre to have a presence in education. With the return to the daily school routine we need to focus on the here-and-now with care and concentration, to learn from today and build a better tomorrow, to strengthen the conscious participation in things, and to promote the imagination as a route to empathy. We hope that these tools will enable young people to become more questioning and inquisitive, ready to shape their individual communities, but also the world as a whole and their role in it.